NBA teams looking for an enforcer for their frontcourt are realizing that potential has taken the place of experience at the "four" forward spot. Based on the ratings list compiled for CBS Sports, the NBA will have to go to the "baker's dozen" to find a senior power forward in this year's draft class. Of the top twelve prospects, three are freshmen, three are sophomores, five are juniors and one European import, Kevin Seraphin, comes to the states with little international experience and a knee injury, to boot.
The Global Basketball Dictionary describes the power forward as a position that requires strength and, most often, height. The larger and stronger of a team's two forwards, whose duties generally involve rebounding as much as scoring close to the basket, they are also referred to as the #4 position.
POWER IN NUMBERS
While 166 players were tested at the Chicago pre-draft camp, in Portsmouth and in private workouts, only 47 dared to step into the weight room to perform in the bench press agility tests. The top mark in the 185-pound lift was 23 repetitions with the lowest being just two lifts. The group on a whole averaged 11.37 reps.
While teams are really not looking for a "Hulk Hogan" to man the power forward position, having some "power" is a prerequisite to combat the more physical front court types in the NBA. The only four players to record at least 20 reps were all front court performers; Gani Lawal (20), Trevor Booker (22), Derrick Caracter (22) and combo forward Luke Harangody (23). Some of the worst performers in the lift were also forwards; NCAA shot-blocking record-holder Jarvis Varnado (3), English import Ryan Richards (4) and small college standout Charles Garcia (2).
LOOKING AT THE STATS SHEETS
The power forward position is not really known for the place his scoring gunslingers reside at. The last time a "four" forward led the NCAA in scoring was Kurt Thomas of Texas Christian in 1994-95 (28.9 ppg). Just eight of the NCAA Division I's top fifty scorers were forwards, and only three saw time at the "four slot." From the list of players listed on this ratings chart, Luke Babbitt led all scorers, ranking ninth nationally with 21.9 points per game. Luke Harangody was next, ranking tenth (21.8 ppg). The problem is, most teams are projecting both players to be more likely small forwards in the professional ranks.
Quincy Pondexter was next among the draft eligible front court performers with 19.3 points per game (40). Charles Garcia would have ranked 48 on that list (18.7 ppg), but Seattle was transitioning to the Division I level and their players were not eligible to rank with the nation's elite in 2009-10. Among the international imports, Tim Ohlbrecht is the top scorer last year, averaging 10.5 points in 35 Germany League contests. Paulo Prestes has a 13.3-point career average, but tallied just 9.8 points per game last season.
Where the power forward group excels in, is field goal percentage. 34 of the nation's top performers in this category are forwards. Jarvis Varnado has the best percentage of the draft eligible "fours" with a .582 mark (seventh in the NCAA). Patrick Patterson is next at eleventh, making 57.5% of his shots. Other notable performances are Derrick Caracter (.567), DeMarcus Cousins (.558), Marqus Blakely (.542), Larry Sanders (.534) and Quincy Pondexter (.528).
NBA teams hope their power forwards can develop into a "Chairman of the Boards," as rebounding is a critical factor to the "four's" game. Of the top 50 rebounders in the NCAA last season, 36 were forwards. Wake Forest's Al-Farouq Aminu ranks best among the draft hopefuls with 10.7 rebounds per game (twelfth in the NCAA). Other notable boards crashers are Damion James (10.3 rpg), Jarvis Varnado (10.3), DeMarcus Cousins (9.8), Epke Udoh (9.8), Greg Monroe (9.6) and Tasmin Mitchell (9.4). However, Monroe, Cousins and Udoh played mostly at center in college and will need to make an adjustment to life outside the post. The best figures among the imports came from Paulo Prestes, with a career mark of 8.4 boards per game, but he regressed a bit last season, pulling down 7.3 boards. D-Leaguer Latavious, a Gerald Wallace type, used his lanky frame to average 7.7 boards per game, but in the second half, he boosted that mark to 13.6 per.
Along with rebounding, the power forwards are generally known for their shot-blocking abilities. There is no finer shot blocker in the game than NCAA career-record holder, Jarvis Varnado, who became the first player in college history to achieve the 1,000 points (1,403, the 31<sup>st</sup> MSU player to score 1,000 points), 1,000 rebounds (14<sup>th</sup> in SEC annals with 1,096 boards), and 500 blocked shots (564). The senior ranked second in the nation with 4.7 rejections last season, as center Hassan Whiteside paced the college ranks with 5.4 blocks. Varnado was the only forward in college to average four rejections per game (three others were centers). Some other notable performances in this category came from Larry Sanders (2.6 bpg), and Derrick Favors (2.1).
Ball handling and passing are not exactly qualities you find in a power forward. Georgetown's Greg Monroe will more likely shift to the four spot from the pivot in the NBA.
He was the first center in Big East Conference history to dish out more than ten assists in a game. His average of 3.8 assists per game last season is tops for any NCAA player not assigned to a backcourt position.
Long range shooters are rarely ever found among the power forwards. None of the nation's top fifty players rated for their perimeter success will be power forwards in the NBA. Cornell's Randy Wittman saw action at both front court spots and had the best performance of any forwards from long range, placing eighth in the nation by making 42.7% of his treys. Only twelve players in college averaged more than his 3.2 successful field goals per game in 2009-10.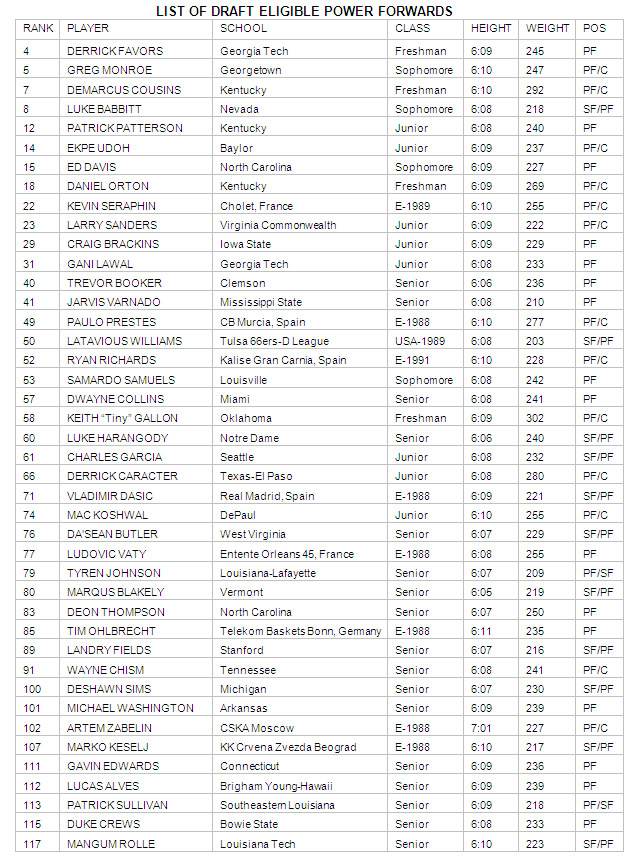 GAZING INTO THE CRYSTAL BALL
With one eye toward the future, this is my prediction on how the centers eligible for the 2010 NBA Draft will fare during their professional careers, listing their three best attributes that they will bring with their game;
CREAM OF THE CROP: DERRICK FAVORS, Georgia Tech - Still developing his mid-range game, but utilizes his leaping ability, reach and timing when crashing the offensive boards (108-of-303 rebounds came from the offensive glass) and also uses those physical talents to excel as a shot blocker (74 blocks rank sixth on the school season-record list), as he has more than enough lateral agility to create problems for perimeter shooters…Has a strong defensive work ethic, using his length to not only alter shots, but do and effective job defending on the pick-&-rolls (32 steals)…Even though he relies more on his inside game, he has above average touch and soft hands, doing a nice job of distributing the ball away from the defender while using his body well to draw contact on the way to the rim.
Possible NBA Suitors …Unless Doug Collins pushes hard for Favors in Philadelphia, Favors is more than likely going to reside in New Jersey until the Nets move to Brooklyn in a few years. While he is still a raw product, playing him alongside Brook Lopez could see both youngsters develop and form a punishing 1-2 punch around the boards…If I Was an NBA GM… If Rod Thorn does not pull the trigger on Favors, it is because Philadelphia realized that Favors' power game will develop enough to see him be the perfect compliment for Spencer Hawes and Elton Brand in the 76ers front court. If Philly lets him slip by, I can't see the Nets wasting too much time putting Favors' name on the card they hand the commissioner.
MOST OVERRATED: ED DAVIS, North Carolina - Has developed into an outstanding defender, using that 7'0" wingspan and 9'0" standing reach (12-foot maximum vertical reach), along with his 36-inch vertical jump to consistently elevate high enough to alter an opponent's shot (became the third fastest UNC player to reach 100 blocks in a career)… Has a very strong set of defensive fundamentals that are NBA caliber, which makes him an ideal role player for an NBA team looking for physicality and blue collar work ethic from the power forward position…Has very large (10-inch width) hands and an excellent touch around the basket, but will need to work on his jumper and develop a perimeter game for the next level.
Possible NBA Suitors… Utah (#9) is making some noise about grabbing Davis, but I figure they will go for a post performer (Cole Aldrich) instead. Everyone in the league think that Larry Bird and the Pacers (#10) will snatch up Davis if he slips to their pick…If I Was an NBA GM… Because of his inability to shoot from the outside, Davis won't get too many minutes at the three-forward spot and must improve his overall power and add bulk to generate lots of minutes at power forward (too often backed down in the post). When I see him perform on the court, why do I keep hearing that verse from the Peggy Lee song going through my head (is that all there is, is that all there is…)? I just can't bring myself to use a lottery pick on this guy. I think he could slide to Milwaukee (#15) if he gets by Indiana.
MOST UNDERRATED: LARRY SANDERS, Virginia Commonwealth - Dominant shot blocker and an above average rebounder, thanks to some eye-opening athletic measurements – 7'6" wingspan, 9'4" standing reach, a vertical standing reach a shade over 11'8", wrist-to-tip finger measurement of 9 ¾- inches, the biggest of all in attendance at the recent Chicago pre-draft camp…Plays center in college, but until his frame fills out, he can earn valuable minutes at power forward, thanks to his long stride, good court speed (3.27 timing in the ¾-court sprint) and balance…Has started to develop a decent jumper from 10-feet out, but has his most scoring success operating in the paint, where he shows nimble moves, great elevation and a high release point to feather his shots up and over a defender.
Possible NBA Suitors …Several "experts" have Sanders going late in the first round, with Minnesota (#16, 23) have a few choices available for big men. Boston (#19) is also showing interest, along with Memphis (#25, 28)…If I Was an NBA GM …I really like him in a Timber-wolves' uniform, but would have to take him at #23, hoping to get Paul George with the #16 pick. If George is gone, I would go for Sanders at #16, hedging my bet against what Boston might do, as the Celtics are certain to go big.
SUPER SLEEPERS: PAULO PRESTES, CB Murcia, Spain - Dominating presence on the defensive end, whose 7'3" wingspan and physical presence under the boards, especially around the offensive glass, is where he has had most of his scoring success on dunks and put-backs…Shows good balance, low center of gravity and the "hops" to get up over the rim to contest shots and is one of the best post-up performers in the international circuit…Has the strong base to take the pass inside, turn and drive to the basket, along with getting high and above the rim to block shots, utilizing his impressive 9'1' standing reach and 7'3" wing span.
Possible NBA Suitors …Because of the adjustments he will have to make with his game (move from center to the four-spot), Prestes will more likely be on the board well into the second round. Look for Portland (#44) and Miami (#48) to keep close tabs on him in the later stages…If I Was an NBA GM… Yes, he will need time to adjust to NBA life and playing power forward, along with getting used to United States culture. No, he's not the fastest you will find on the court, but for the half court game, he moves well enough. If I want an enforcer under the basket at a cheap price, I would use a second rounder on him with no hesitation. He'd look nice at Madison Square Garden nightly, with the Knicks using pick #38 on him.
KEVIN SERAPHIN: Cholet, France - Has very good court speed for a big man (3.23 ¾ court sprint) and a 7'3" wingspan that he utilizes with good effectiveness to alter shots and easily put the ball back in on put-backs off the offensive glass…His offensive game is limited to five-feet from the basket, but he finishes strong charging to the rim and has shattered a few backboards with his emphatic dunks…Has a well-defined, muscular frame with to add more bulk for a future move to center, but with his quickness, he could earn decent minutes at power forward right now (more likely to be drafted and then asked to spend another year in Europe to continue his offensive progress).
Possible NBA Suitors …Later in the first round, Seraphin will more likely hear his name called by either Portland (#22) or Minnesota (#23), as both showed in the past they have a strong liking for imports, especially if they can stash him in Europe for another year to let his body and game develop. If he slides out of the first round, it will be due to concerns about his recent knee injury. With that in mind, he won't last past Oklahoma City at #32.
If I Was an NBA GM… If I was picking for Houston, and convinced that his knee was sound, I'd grab Seraphin at #14, knowing that once he becomes acclimated, I will get at least a quality defender who can block shots while waiting for him to hone his offensive skills.
FINAL THOUGHTS
DAVE-TE'S POWER FORWARD ELITE (Players I feel will play in the NBA All-Star Game one day.)
Derrick Favors

Greg Monroe
LUNCH PAIL SQUAD (Players I feel will bring good value as role players for their respective teams.)
Ekpe Udoh

Larry Sanders

Jarvis Varnado
BOOM OR BUST (Players I feel will either make a big impact or seek employment in another career before long.)
DeMarcus Cousins

Patrick Patterson

Daniel Orton

Ed Davis

Tiny Gallon
THE SUPER SLEEPER SQUAD (Relative unknowns who could be nice finds on draft day.)
Kevin Seraphin

Paulo Prestes

Ryan Richards

Luke Harangody


Mac Koshwal
BUYER BEWARE UNIT (Players I feel that will go much higher than their skills dictate.)
Patrick Patterson

Daniel Orton

Ed Davis

Samardo Samuels
---
THE CBS SPORTS INTERVIEW
Below is the Q&A session between myself and Jay Horowitz. You can also hear my "thoughts" on the video segments CBS Sports is running on the web site. After the Q&A, I expand a little more on the talent available. During the days leading up to the draft, I will be breaking down the talent, position-by-position, followed by a look at some of the top players and which teams have zeroed in on those prospects. Here are the questions Jay tossed at me in regards to the entire forward class.
Jay: After you get by who people expect to be the top two picks, Wall and Turner, you see a lot of forwards. Is this group of forwards as a whole poised to be impactful right away?
Dave-Te': Oh no, the frontcourt talent is impressive, but you are going to have a lot of "green" rookies that still need to develop areas of their game, like Derrick Favors-Georgia Tech, Ekpe Udoh-Baylor and Al-Farouq Aminu-Wake Forest that I say will be future All-Stars, but will still be in "NBA school" in 2010-11.
Jay: Some see Derrick Favors as the best option, some see DeMarcus Cousins...both after 1 year, which do you think has the best chance to be an all-star calibur post player?
Dave-Te': I think Favors is a brute around the rim and I love his work ethic. Cousins, well, he's like Forest Gump's box of chocolates – you just don't know what you are going to get from that guy. Cousins has better athletic ability, but between the ears, it's a losing battle to get through to him sometimes and when he starts moaning and groaning, which is often, you have to have a box of pampers around to change his diapers. Favors is another Amare Stoudemire, while Cousins has the making of being another Derrick Coleman.
Jay: What about on the wings at the small forward position?
Dave-Te': Ah, my favorite guy leads the pack here, Wesley Johnson-Syracuse. He's a Shawn Marion clone who is very good at creating his own shot and shows the ball handling and passing skills to create shots for others. He also shows strong desire on the defensive end (224-of-299 rebounds came from the defensive glass) and has the quickness to stay with wings and challenge two-guard types attempting shots on the perimeter. Aminu will probably play small forward while his frame continues to mature. Paul George can swing between the two-to-three slots and Luke Babbitt-Nevada has a great offensive game, but on defense, he's just another Adam Morrison. A Gerald Wallace clone is Damion James-Texas, perhaps the best rebounder of this bunch and Washington's Quincy Pondexter is another fine rebounder, especially on the defensive end.
Jay: Gordon Hayward is an intriguing names to fans because of Butler's tournament run to the title game. What are your thoughts on HIS game?
Dave-Te': To me, Hayward could be what Grant Hill was in his prime. He has that blue collar work ethic and easily fills a complimentary role, but he can also take over a game at a second's notice. I seriously doubt that Larry Bird's Pacers will pass on him, if he's still there when Indiana selects at #10, but they need to watch out for Golden State, who would love to have Steven Curry feeding the Butler forward regularly.
Jay: In this group, three or so projected first rounders of whom people may not know because from non big-six conference schools...Fresno State's Paul George...Nevada's Luke Babbitt...and VCU's Larry Sanders, we so often hear upside. Is that the case with these guys or are they NBA ready?
Dave-Te': George is a lanky small forward who lacks the strength to take on other wings, but with his shooting touch, I'd be very happy with him at off-guard. Babbitt can play the three- or four-slot, but his lack of defensive prowess is a drawback. Sanders is a high flyer around the net, but give him a year or two to get acclimated to playing forward, as he spent his VCU time operating at center. You want a sleeper here? Take a look at juco transfer Darrington Hobson, who might lack bulk, but he can defend at multiple positions and with 5.0 assists per game, he could be a pretty effective point forward-type.
Jay: Is there a guy or are there a couple of guys who have been projected fairly high who you think may be disappointed where they end up being drafted?
Dave-Te': Lance Stephenson, for one, jumps out at me there. If he does not get an attitude adjustment soon, he will be doing like Harry Bellafonte in the song "Limbo Trick," how low can you go? I can't understand why a good soldier with no standout qualities, Kentucky's Patrick Patterson, will go as high as he will. I think Ed Davis is going to be exposed for his lack of assertiveness on offense.