As the pre-draft scuttlebutt kicks up in earnest this week, below is one man's look at the players who will be selected by the NBA on Thursday. Versatility seems to be en vogue when league executives look at the center position. Gone are the slow, plodding big men, replaced by more athletic types who can move out to the "four" forward position.
The Global Basketball Dictionary describes the center as the key position of the offense, often played by the team's tallest player. The center is primarily called upon to take the tip-off and to stay close to the basket, in a post position where he can alter or block shot attempts, rebound and relay on close-range offensive moves, rather than jump shots to score.
Also referred to as the pivot man or the #5 position, most of the top level prospects in the 2010 draft might have a bigger future at the power forward slot. Those that might move to the "four" spot are Greg Monroe, DeMarcus Cousins, Ekpe Udoh, Daniel Orton, Larry Sanders, Paulo Prestes, Ryan Richards and Derrick Caracter, among those prospects expected to hear their names called on draft day.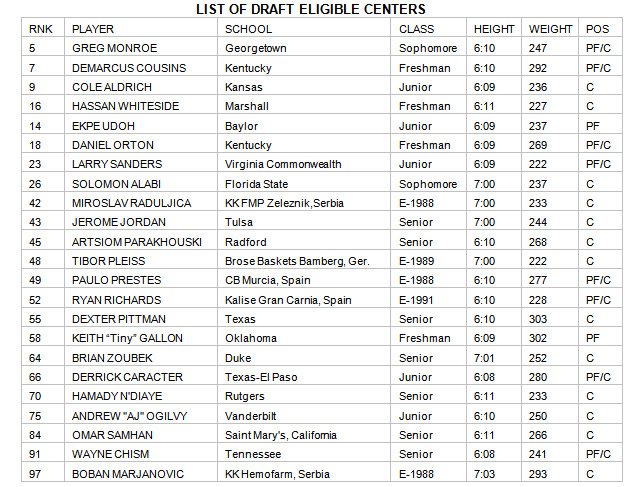 LOOKING AT THE STATS SHEETS
Teams looking for the "pure" center, the back-to-the-basket behemoth, are generally in consensus that Cole Aldrich fits that mold better than any other prospect in this draft.
Eight of the top ten shot blockers in the Division I ranks last year were collegiate centers, led by the likes of potential first round draftees Hassan Whiteside (led the nation with 5.4 blocks per game), Hamady Ndiaye (third nationally with 4.5 bpg), Ekpe Udoh (fifth, 3.7 bpg), Aldrich (sixth, 3.5 bpg) and a possible free agent find in Patrick Sullivan (ninth, 3.3 bpg).
Rebounding is a big part of the front court player's game, but more often, it is the power forward that crashes the boards regularly. Only twenty Division I players averaged at least 10.0 rebounds per game last season. Just two centers ranked among the top ten in this category, Artisom Parakhouski (first with 13.4 rpg) and Omar Samhan (ninth, 10.9 rpg). Other notable "board crashers" among the center crop are Ekpe Udoh (9.8 rpg), Greg Monroe (9.6 rpg) and rising star, Jerome Jordan (9.1 rpg). The best rebounder among the "imports" is Paulo Prestes, who has averaged 8.4 boards per game during his career.
There will not be a prolific scoring machine in the Lew Alcindor/Shaq mold coming out of the collegiate ranks this year. Just 26 Division I players averaged 20 points or better last season. The only two centers to rank among the top 50 scorers in the NCAA were Artisom Parakhouski (fifteenth at 21.4 ppg) and Omar Samhan (sixteenth at 21.3 ppg). But, many scouts feel that the Princeton system used by Georgetown failed to let Greg Monroe display his prep days scoring ability.
Monroe averaged 16.1 points as a sophomore. Put him in an up tempo attack and he will score in bunches, but with his range on his jumper, he would be even more dangerous as a power forward. The only other "big" to average more than 15.0 points last season were Jerome Jordan (15.4 ppg) and DeMarcus Cousins (15.1 ppg). The highest scorer among center imports was Miroslav Raduljica, who put in 13.7 points in the Adriatic League.
While centers are not usually finding shooting beyond the arc, some of the better perimeter shooters here are Hassan Whiteside (60.0%) and Greg Monroe (27.3%). The best long range shooter among the imports is Paulo Prestes, who connected on 35.7% during his career.
Finding a pivot performer with the hands, vision and basketball IQ to serve as a ball facilitator is critical. No one does that job better than Greg Monroe, the first center in Big East Conference history to dish out more than ten assists in a game. His average of 3.8 assists per game last season is tops for any NCAA player not assigned to a backcourt position. He far surpassed any other front court player, as only five other NCAA draft eligibles and one import averaged at least one assist per game last season. That list includes Jerome Jordan (1.3), Artison Parakhouski (1.1), import product Miroslav Raduljica (1.1), DeMarcus Cousins, Larry Sanders and Ben Zoubek (all at 1.0).
Teams looking for quality ball thieves from their post performers might have a hard time finding a consistent performer there, unless they are named Greg Monroe (1.2 spg last year, 1.5 spg for his career). The only other centers to average at least one steal per game were DeMarcus Cousins (1.0 spg) and A.J. Ogilvy (1.0 spg). Cousins' teammate, Daniel Orton averaged 0.6 steals per game, an impressive figure, considering he averaged just 13.2 minutes per contest. Orton also averaged 0.4 assists in limited playing time.
GAZING INTO THE CRYSTAL BALL
With one eye toward the future, this is my prediction on how the centers eligible for the 2010 NBA Draft will fare during their professional careers, listing their three best attributes that they will bring with their game;
CREAM OF THE CROP …GREG MONROE-Georgetown…At a shade under 6:10, he does not have the ideal height you look for in a center, but his 7' 2 ¼" wingspan and 9' 0 ½" standing reach help him compensate when trying to alter shots by bigger opponents… Carries on his school's tradition of producing unselfish players, as he has to be one of the best playmakers of any frontcourt man in this draft, handing out 207 assists in 65 games (3.2 apg), including 128 as a sophomore (only center in Big East history to have a game with at least ten assists)…Very fluid moving laterally and has been bred, like most Georgetown centers (see Patrick Ewing and Alonzo Mourning) to be ready to get down court in an instant on the fast break.
Possible NBA Suitors …Despite their recent trade with Philadelphia for Samuel Dalembert, Sacramento (#5) still needs to get big upfront. If they take Monroe, look for them to move him to power forward…If the Kings go another route, Golden State (#6) will be ready to pounce on the young Hoya…If I Was an NBA GM… Comparing Monroe to Derrick Favors and DeMarcus Cousins, if I was Rod Thorn and the Nets, unless I go small for Wesley Johnson, I take Monroe, a much more polished product than Cousins or Favors and put him in my frontcourt alongside Brook Lopez.
MOST OVERRATED …MIROSLAV RADULJICA-KK FMP Zeleznik, Serbia…Built more in the lines of a power forward, he has an angular frame with large hands, long wingspan (7'2") and good standing reach (9'1")…Gets good elevation and extension executing his right-handed baby hook shot, having very good success converting his shot, even with a bigger defender in his face…Best when playing with his back to the basket, but shows decent ball-handling skills for a big man and is starting to develop a good shooting form from outside the paint.
Possible NBA Suitors… After his "Howard Hughes" impersonation at the recent Eurocamp, Raduljica's hope of making it into the first round went right out the door. His poor attitude and refusal to work out might even cost him second round consideration. Minnesota (#35, 56) might be the most interested, but only if they want to stash him in Europe, as it is certain that his "head" is not NBA ready…If I Was an NBA GM… Good bye, see ya, no way you play for me. His reluctance to be interviewed, measured and perform in Eurocamp spells trouble. Considering he will have a cultural adjustment to deal with in the United States, I can't sit around and change this kid's diapers. Good luck in Europe, Rad!
MOST UNDERRATED …JEROME JORDAN-Tulsa…One of the premier shot blockers in college basketball, Jordan should have similar success in the NBA, thanks to his 7'5" wingspan and 9'5" standing reach. His wingspan is a great weapon, but he also is very good at waiting for the shooter to elevate before leaving the floor, timing those leaps to consistently contest the shot (is the school and conference career leader with 333 blocked shots and set both league and university season record with 143 blocks as a sophomore, the first time he was ever a full-time starter)…His time spent at the LeBron James Skills Academy has greatly impressed pro scouts, who feel with patient coaching, he can develop into a dominating defender, with an added bonus as an inside scorer…His success as a scorer has come from his rapidly developing low-post moves, as he is nearly unstoppable when he attacks hard to finish strong at the basket.
Possible NBA Suitors …Atlanta (#24) is looking for a big man in the pivot that can block shots, but more likely, the Knicks (#38) or Miami (#41, 42) could be teams that will scoop him up in round two…If I Was an NBA GM… What a natural for Oklahoma City (#26), as they keep the local product around town and get a big man to clear out the traffic for Kevin Durant.
SUPER SLEEPER … ARTSIOM PARAKHOUSKI-Radford…Has the power (16 reps in the bench press tests at the Chicago pre-draft camp was one of the best figures at the event), size (6:10), bulk (268), wingspan (7'1", standing reach (9'2") and court speed (3.33 in the ¾-court sprint) that teams are looking in a classic half court type center…Despite just four years of college basketball and two years of junior national team competition, Parakhouski displays a well-rounded game and has continued to improve in most areas each season… Has the large, soft hands for the catch-&-shoot plays, working well when his guards feed him around the basket, using his reach to feather the ball over tall defenders, along with a good feel for playing with his back to the basket and has developed efficient range with his jumper.
Possible NBA Suitors… Special assistant, Alonzo Mourning, would salivate tutoring this basketball neophyte if Miami uses their #48 pick on him. Utah (#55) will not let him go home empty handed on draft day, if others pass the Radford product by…If I Was an NBA GM… If I was choosing for the Knicks at #39, Parakhouski would be spending the next few years getting the ball to LeBron James (yes, that's where I say the King will call home) in Madison Square Garden for the next few years. That way, New York finally loosens the purse strings, re-signs David Lee, moves him to power forward and my front court is set.